Over on his 333image blog, Orlando has been riffing about body fluids of various sorts – saliva (looks awfully familiar), precum and the hideously named vaginal mucus. In a shot featuring a close-up of a woman drinking the piss of another woman, he comments that:
This is about as humiliating an act as I can imagine without a crowd of people watching.  But with most images in this genre, the subs appear so lost in their humiliation that I can't bear to look.  I think: yes, I would be like that, too.

But….this girl is very well trained.  She is just happy to serve, totally focused on that, and she will have time to curl up in a degraded little ball later on.
I find there are two schools of thought around this kind of play. One group of people considers such acts as automatically degrading and classifies them as a type of punishment. The other group exalts the dominant and treats the fluids as a gift for the submissive.
The first viewpoint is I think the more 'natural' to adopt. It's certainly the one most non-kinky people would assume. But personally, I've always belonged to the second group. Swallowing urine or saliva is certainly a deeply submissive act. Which in turn makes it an exciting act. But I don't find it humiliating or degrading either during or after. Gratitude would probably be my dominant emotion.
However, my weirdness aside, Orlando's comment about 'a crowd of people' did make me think of a certain well known Japanese video series. I had to hunt around to find an image that wasn't too extreme to show, but I finally found this one. The centre of attention appears to have a pretty empty stomach. Given the crowd lined up around him, that's probably just as well.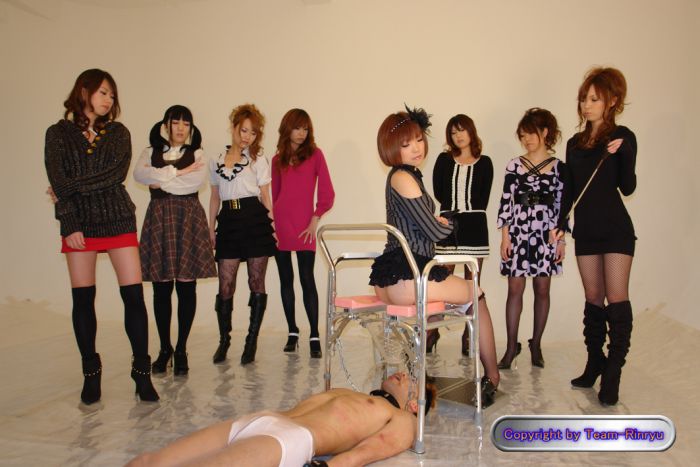 This is of course from the yapoo market series, which features some very intense femdom. This particular image is from yapoo market 78. There's an associated site called Team-Rinryu, but unfortunately it's all in Japanese and I'm not sure exactly what the connection is.
Unless you're into all aspects of heavy toilet play, or have a very strong stomach, I'd advise exercising extreme caution when clicking around those sites. There are numerous images and clips that may disturb you. They certainly did me.