I love everything about this image. The symmetry of it. The precision of the needle line. The sense of calm intensity. The shadowy figure of the domina, imposing and yet not defined. It's probably my favorite image of all that I've posted to date.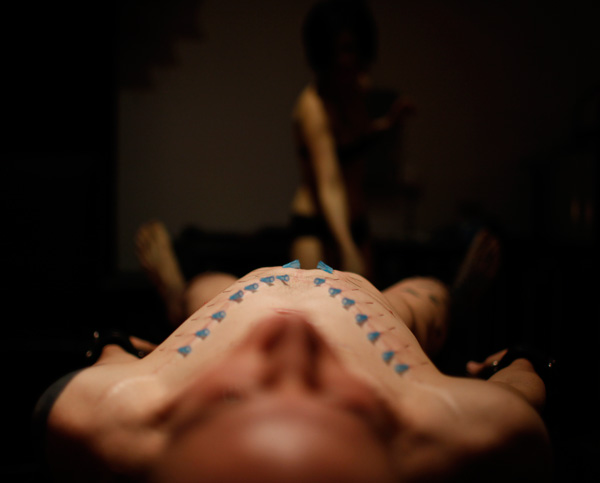 It's taken from Domina Yuki's tumblr site. She's a professional dominant, working out of San Francisco, Her main website with details on arranging sessions can be found here.
I think my reaction to needle play was one of the biggest surprises I had (out of many) when first getting involved in BDSM. It had zero appeal at a fantasy level, and was something I'd recoil from if I came across it in femdom porn. In reality it turned out to be an amazingly intense and enjoyable activity. Although I have to admit to almost fainting on my first attempt, so minus several masochist points there. Fortunately, I have got a little better since then.
I was actually in a similar position to this gentleman a week or so ago, but instead of an arch across the chest, the mistress (Lady Lydia in my case) placed pairs of needles at the top of each arm, my hips, my shins and the edge of my hands. She then zigzagged cord back and forth between them under the table, anchoring me in place with some deliciously painful predicament bondage. That of course then left her free to start work with the needles on the nipples….