I've never been into the online panty purchasing scene. In the highly unlikely event you've no idea what I'm talking about, then Metro has a decent article on it here. I understand the fetish and, as I wrote yesterday, I enjoy scents as part of play. It's just a case of YKINMKBYKIOK when it comes to UPS and plastic bags of used underwear.
However, I do appreciate items of feminine clothing being worked into an in person scene. It's a fun dynamic, with elements of tease and denial, humiliation and intimacy all twisted together. I've even occasionally been gifted the odd item at the end of a scene, which is normally a nice memento, but was once the source of some embarrassment.
It was around my birthday and, as a departing gift, the domme gave me the pair of black fishnet stocking she'd been wearing during part of our play. I thanked her for the unexpected birthday present, stuffed them into the pocket of my leather jacket, and went merrily on my way. In my post scene high, I promptly forgot all about them. That is until the next night, when I'm out with friends and hunting for my wallet to pick up a bar tab. Had it been the start of the evening I might have realized what my fingers had encountered, but sadly this was not our first or even second stop. So, with a brain slightly less razor sharp than usual, and assuming my wallet might be under this random unidentified fabric in my pocket, I pulled the stockings out. It turns out to be remarkable hard for a tipsy single guy to quickly come up with a plausible excuse for why he's carrying black fishnet stockings in his pocket.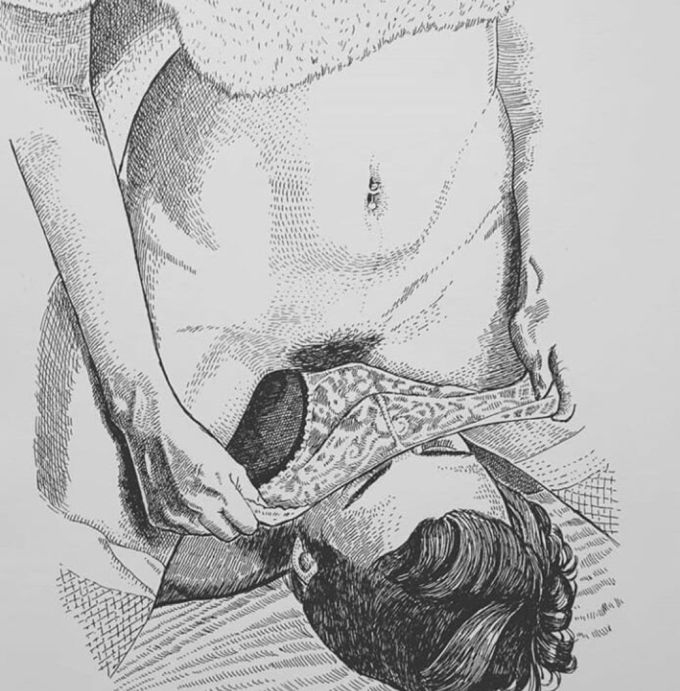 I'm not 100% sure, but I this looks awfully like the work of Apollonia Saintclair.