The Guardian has an interesting article on female sexual pleasure featuring five women speaking out on the topic. It packs in a lot of complex issues, and left me wanting to hear more from everyone interviewed. From the perspective of this blog, the most relevant voice was the last one featured, that of Reba Maybury. The article labels her as a dominatrix, but she seems to be part performance artist, part political agitator and part pro-domme. It's hard to tell from the article if kink is an intrinsic part of her life or just an interesting tool for exploring power dynamics and gender politics.
What struck me as particularly odd was this section…
A socialist of mixed-race background, Maybury only dominates white, preferably right-wing, men. "I can't force myself to be even fictionally cruel to any other type of man. It makes the performance a lot easier," she says. "I could never be mean to someone who wasn't white, because the world is run by white men, isn't it?"
To a kinky submissive person such as myself that seems …. odd. Her white, right-wing male clients will doubtless enjoy being dominated. That is after all why they reach out to her. I'm sure being called selfish, disgusting, misogynistic assholes is exactly what some of them desire. On the other hand, a non-white or left-wing man who would also enjoy being dominated, has to go without. So she meets the needs of those she dislikes and withholds it from those she supports. That doesn't seem optimal.
I think it's absolutely possible to mix kink and progressive politics. For example, as I covered here with Mistress Couple and the Trump voters. I also love the idea of Dominatrix Maybury getting her right wing submissives to help her create a book whose profits go to sex workers. That's a fabulous concept. But as she recognizes at the end of the article, our kinks and our politics align in complex ways and they don't necessarily influence each other. If you want to punish wealthy white conservatives, then maybe don't beat or humiliate them if that's what makes their dicks hard?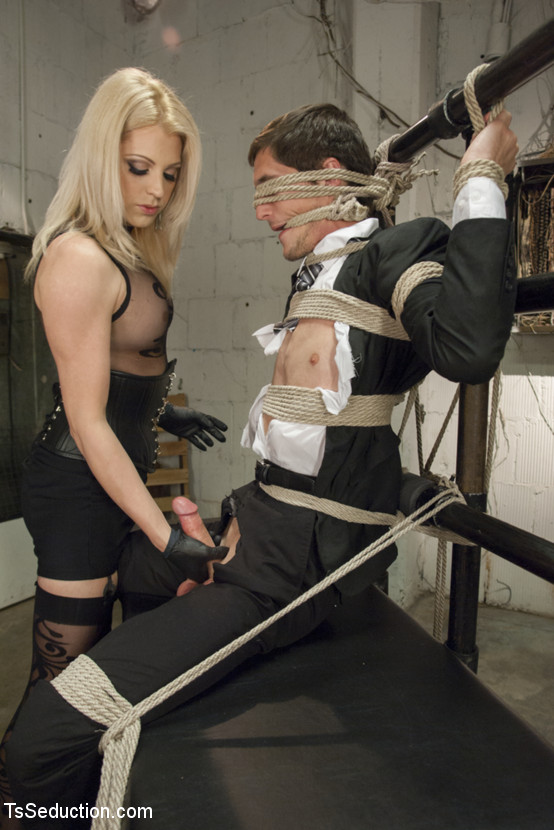 I'm not sure who this man voted for, but he's a white guy in a suit, so there's at least a chance he matches up with Reba Maybury's criteria. The sexy bondage here comes courtesy of the TS Seduction site.