Welcome to another post in my occasional series on women who were awesome without necessarily being dominant in the BDSM sense. In the past this series has included motorcycle racers, resistance fighters, film stars and aristocratic swashbucklers. The newest entrant into this series is all around daredevil and badass Kitty O'Neil, who died recently aged 72.
You might not know the name, but the odds are you've seen her in action at some point. She was the stuntwoman for the original Wonder Woman TV series, as well as movies like the Blues Brothers and Smokey and the Bandit. She also set water speed records (275 mph), water skiing records (105 mph), land speed records (512 mph average, peaking at 621 mph) and participated in tough off road races like the Baja 500 and Mint 400. If all that wasn't enough, she did it after overcoming spinal meningitis in her teens and two bouts of cancer  in her 20's. Oh, and she was also deaf, thanks to a childhood combo of measles, mumps and smallpox. What an amazing woman.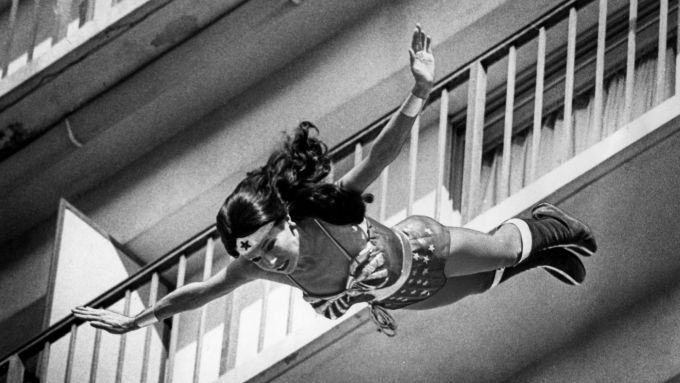 This is Kitty performing a 127 foot dive from a hotel balcony for the Wonder Woman TV show.