I've had a variety of book related links come my way recently, so I thought I'd gather and share them via a post.
Ferns has published volume 2 of her Happy Femdom Stories.  She's shared a series of these on her blog and they always put a big smile on my face. There's a huge amount of fantasy and professional femdom content online, but very few positive stories about real femdom relationships, so I love what Ferns is doing here.
Domina Jen is working on a book of her own and using Patron to support it. Check that out if you enjoy her writing and want to interact with her as the novel progressed.
Miranda Birch sent me a link to her site and asked if I'd feature her femdom fiction here. She has a large back catalog of work covering all sorts of kinky femdom scenarios, so that might be worth a look if you're after new erotica.
Finally, I enjoyed this article on the passage of the bill that decriminalized sex work in New Zealand. There's an associated book 'My Body, My Business', featuring the stories of sex workers and their thoughts on the industry that's due out later this month. That's one to add to my Christmas list.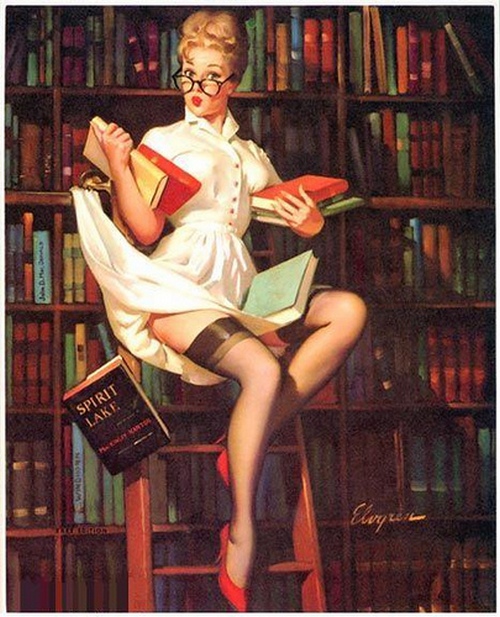 This pin-up librarian is by the American artist Gil Elvgren.