My thanks to Sardax for pointing me at this perplexing but amusing tweet. The translated version of the caption that accompanies the image below is…
Fresh! Immediate distribution! We #柊木のあ will deliver a freshly squeezed pee of freshness with one pee delivery phone! Why not deliver the rich urine of the cute girl to the place of hope?
Who among us can say that they've never secretly wished for the  delivery of fresh pee from a cute girl to their place of hope? Although my last known place of hope was located somewhere before November 2016, so they may find the address a bit tricky to find.
I wonder – is the delivery 'created' fresh on your doorstep by the cute girl as this image suggests? Or is the cute girl elsewhere and instead a grumpy 20-something delivery dude shows up on a bike with a bottle in his knapsack? Because in the latter case, I might be suspicious that the pee in question had been created less by a cute girl and more by the sweaty dude in an alley around the corner. Provenance would seem to be an important factor in the pee delivery business.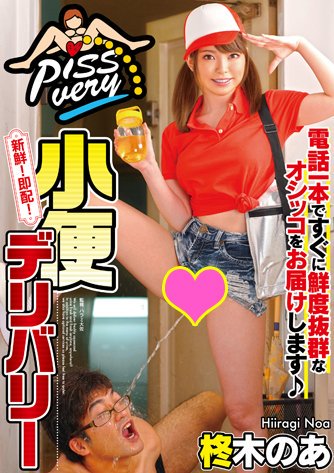 Sadly, for anyone hoping for golden showers on demand, this is actually a movie from the Office K's company.