Mistress Maria over at Girls Rule, Subs Drool tumblr posted an interesting fantasy idea I've not heard before from a woman's perspective.
Occasionally I have a "bored and ignored" style fetish.
I want to lay on my bed reading a good book, while you hump the back of my thighs, then get off on me, and lick it up. Without me saying or doing anything (other than giving permission.)
I've seen this kind of thing before in femdom porn, but it typically has a male-centric fetishistic approach. The guy is humping a boot or a shoe or whatever object gets him off, with the woman just there to wear it and add a frission of humiliation. Maria's description (and there's more to it than just the quote above) has a slightly different slant. It's more tease and denial, with an odd reverse objectification, with the man now being the one ignored. It puts me in mind of puppy play, with a helpless horny pup.
I think it's a hot fantasy – although I do query one element. Maria suggests that most people couldn't get off like this, so there would be a sense of frustrated futility. I would think the majority of submissive guys would absolutely be able to get off like that. If you really to make it increase the frustration factor, there would need to be a time limit involved.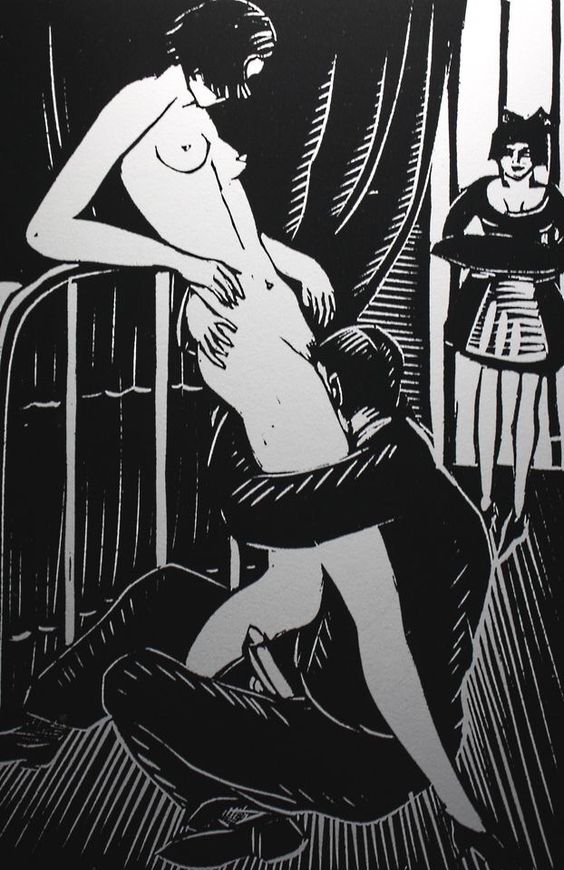 I believe this is by the German artist Otti Rudolf Schatz (1900 – 1961).