I wonder who thought this was a good look to go for? Did they start with the outfit and then go looking for a matching chair, or vice-versa? Or was the outfit and the setting all just a lucky coincidence? Are there people out there with a leopard skin fetish? Or are they aiming for the camouflage fetish market? Does she curl up, concealed on the chair, waiting for her moment to leap out with claws unsheathed? Have many unsuspecting male submissives been surprised and mauled by that most dangerous of predators – the indoor leopard domme?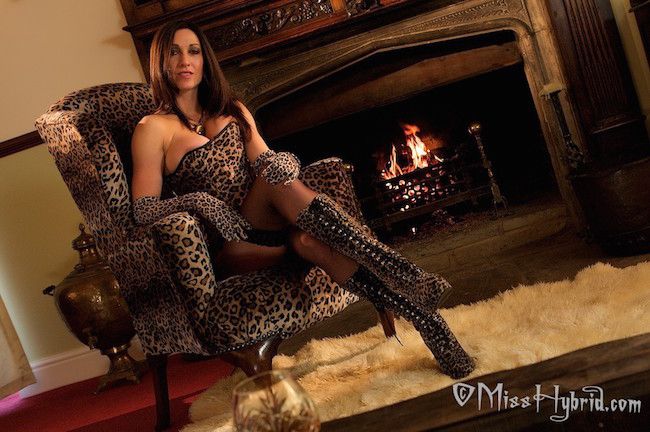 I'm not sure who this attractive but somewhat oddly attired lady is. I'd guess it's from a more commercial and conventional porn shot than a femdom one, but that's only a hunch.
Updated : Thanks to my wise and learned readers (specifically Simon) I can now attribute this to the Miss Hybrid site. I was partially wrong about it being from a conventional porn shot, as Miss Hybrid's material definitely has a fetish and femdom slant, but there's more regular sexual activity than the standard femdom clips. Also, for anyone reading this and wondering how I could be such an idiot as to miss the big logo on the image – I changed the image. The original had the logo chopped off, but thanks to the attribution I managed to find the original version with logo intact.