Here's my final water themed post for the foreseeable future. Seattle has now returned to its traditional rain and, more significantly, I've run out of interesting water images to feature.
I like this combination of heavy chains and water. There's a nice duality to the idea of chains as both bondage and a weight pulling him under. The big glass tank is also pretty cool. I really think kinky porn studios should invest more in unusual equipment and visual impressive scenes. Regular movies range from intimate character driven dramas through to crazy over-the-top special effect extravaganzas. In contrast most porn is somewhere between an Adam Sandler comedy and a Will Ferrell comedy. i.e. Middle of the road crap to middle of the road occasionally good. I'm not going to hold my breath for the porn version of a Jim Jarmusch movie, but surely creating a visually striking Luc Besson equivalent is not beyond the wit of a big kink studio.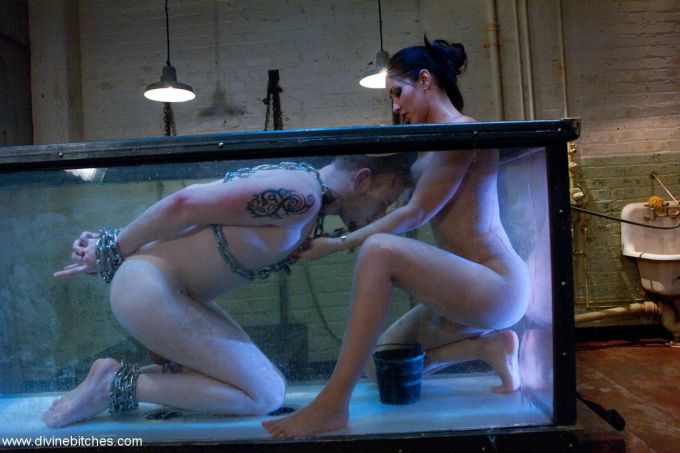 This is obviously a Divine Bitches shoot. I believe it feature Wolf Hudson and Mistress Isis. It's not often you see a swimmer's nose clip in a porn shoot.