This is the second edition of my highly erratic series of posts on Femdom books. Today I'm writing about "Domme Chronicles: Erotic tales of love, passion, & domination" by Ferns. I've actually got three different approaches to this review, so feel free to choose your own adventure from below.
Approach number one puts you, the reader, in charge. Do you know of Ferns' writing? If not, go and read it and come back. She's an excellent and prolific femdom blogger, and this book is drawn from her online writing. Now you know it, do you like it? If not, then you probably shouldn't buy this book. That way lies disappointment and frustration.  If you do like it, and you'd like a nicely curated and edited collection of her fiction, then perhaps you should go buy the book. It sounds like it might be right up your alley.
If you can't be bothered with approach one, then let us move to approach two. This is where I shift the burden of reviewing to my fellow blogger hmp. He's put up a fine review of it that's far more thoughtful than anything I'm likely to come up with. Check that out and see if it floats your dinghy.
Finally, if all that doesn't work for you, we get to the last and least of the three approaches. That's what I think about it. And personally I find it interesting for the space it occupies in the erotic fiction landscape. No doubt many readers are now muttering to themselves "WTF is this idiot on about now", so let me explain.
One dimension of erotic fiction writing is the context provided. Is it very direct, with short punchy descriptions of scenes, or is it full of background and character sketches? The former is who does what and how, while the latter tends to fill in the why. Another dimension is the degree of realism. Is it the kind of thing you might have done last night (if you had an amazing night)? Or does it ignore basic physical, legal and moral rules? Is it the kind of thing where days of extreme bondage in crazy positions can be shaken off in a few seconds? Where gangs of leather clad young college girls kidnap middle aged men and spirit them away to femdom island, where they're strapped to the bed of exquisite torment and force to lick every inch… Ahem. Where was I? Oh, right, book club.
So the writing of Ferns is both very direct and realistic. The book is packed with beautiful vignettes that capture a moment, either a short physical interaction or an emotional connection. They're distilled glimpses of femdom relationships. That strikes me as unusual for erotic fiction. Typically I've observed that realism pairs with longer more contextual writing, and shorter scene descriptions pair with unrealistic over the top scenarios. That's not a criticism, just a comment about the style in contrast with what I normally see floating around the online erotic fiction libraries.
I personally enjoyed it the book on an intellectual level, but it wasn't a button pusher for me on a deeper id level. I like a touch of escapism in my erotic fiction, and this typically made me want to go and enact the scenes, not imagine them. However, I do think it'd be a fabulous book to give to someone who was dabbling in femdom, or who wanted to understand its appeal. You might not necessarily convince them to try it, but I don't think it'd be possible to read this book and not understand the deep appeal it has for some people.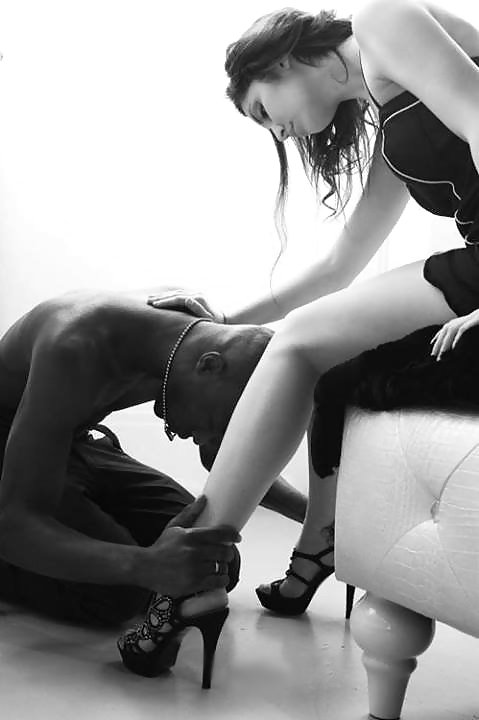 I'm afraid I don't have an attribution for this image. If anyone can help out with that, then please leave a comment.