Yesterday's post on the reality of medical facilities got me thinking about the origins of fetishes. Scott left a comment about his recent medical procedures and how unerotic they were, which aligns with my personal experiences of hospitals. Yet, the medical fetish seems to be a very popular one. I think that offers a great illustration of just how complex fetish origins can be.
Looking at 'simple' fetishes like feet, latex or stockings it's tempting to come up with a very reductive explanation, involving just the right mixture of the item in question, a female figure of desire and an impressionable child. A suitable blend of positive elements and poof, fetish wiring imprinted into the brain. But how does a child subvert something as unpleasant as a hospital stay into an erotic charge later in life? That's not an obvious 'positive' origin at all. One might guess that fear, female authority figures, clinical intimacy and a focus on the body all play a role. But it would seem impossible to boil it down to some sort of Pavlovian response to basic stimulus.
I'm not really a fetish person, but like a lot of areas of human sexuality, I do find them fascinating to ponder. They may manifest themselves in a similar fashion (fetishized+fetishist=fun), but their origins must be highly variable and complex.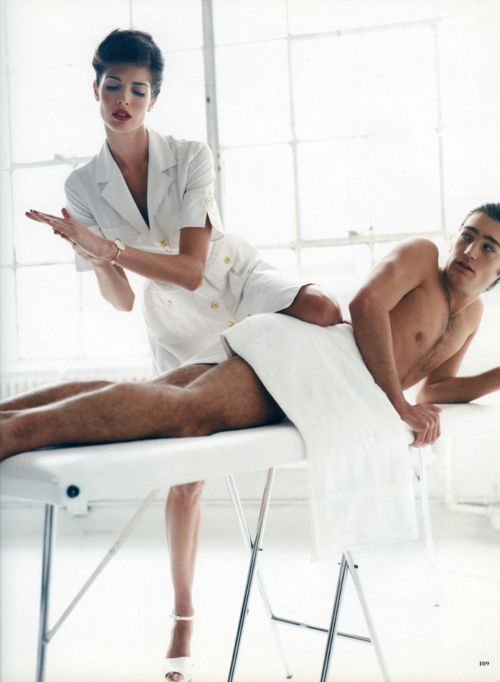 This seems to be a suitable image to continue the medical femdom theme. I found it on the iHonorHer blog. I believe this is Stephanie Seymour from Vogue France in 1995.