A recent post by Underling posed what I thought was an interesting question for submissives. He was writing about spanking, and in particular that first experience…
…do you remember your first time? What prompted that initial collision of palm and derriere? Was it spontaneous, planned, paid for? Was it all you'd dreamed of and more, or were you left wondering what all the fuss was about?
He follows the question with a nice story describing his own first time, featuring a slightly surreal but ultimately satisfying session with a nice professional dominant lady.
My first adult spanking was also in a professional session, but it was oddly late in my kinky career. During my first few months of BDSM 'for real' (as opposed to in my fevered imagination), I did a pretty good impression of a kid in a candy store (apologies for the clashing mental image). I wanted to try everything. Ropes, whips, canes, needles, nipple clamps, gags, cuffs, pegs. You name it, I wanted it attached, inserted or applied at speed. Yet oddly I never got around to a traditional over the knee spanking. Somehow it seemed a little old fashioned.
I ended up having my first spanking almost accidentally. We'd been trying to do a suspension scene, and it just hadn't worked out. I was having some joint issues, we couldn't get the balance right, the rope harness was too tight, Libra was on the cusp of Capricorn, the BDSM gods were grumpy, etc. Normally a suspension will take a full session, so when it didn't pan out we suddenly had extra playtime, and Lydia decided that a spanking was the right way to fill it. So like Underling my first time had a touch of the surreal, but in my case it was because it caught me so unawares. My thought process ran along the lines of "This is weird. Why am I getting over her knee? How is this going to work? It's almost like…ohhh…we're spanking! That's kind of fun!"
Since then I've done it a number of times and always enjoyed it. I don't get the rush from it that I think true spanking aficionados experience, but I like the close physical contact and the intimacy of it. Whipping and caning can be quite isolating. The pain makes me turn inwards and focus on my body. But a spanking is definitely a shared experience.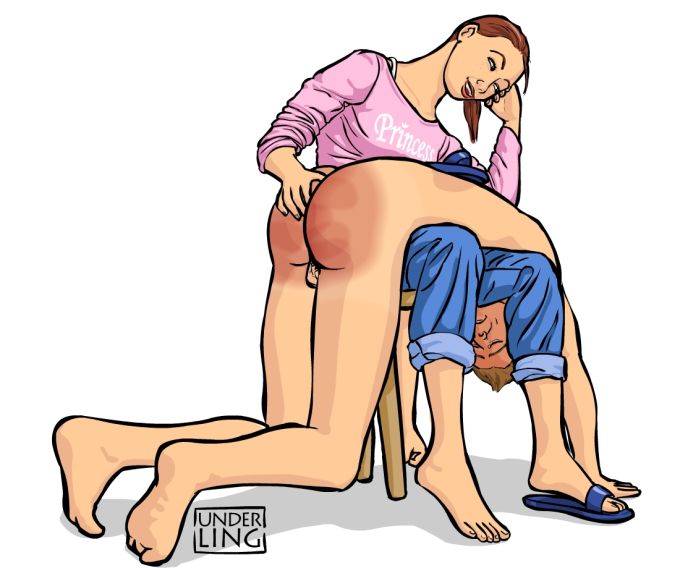 Image is by Underling from his site Underling's Humblings.