I'm feeling a little sore right now. I'm also buzzed, floating, happy. Lady Lydia gave me a good working over with a variety of slappy, swishy and swingy things. There was one particularly evil device, a short heavy plastic/rubber cane, that had the biggest delay from impact to pain that I've ever experienced. It was a case of WHAP…wait…wait…make a coffee…phone a friend…do your taxes….wait…OWWW – fuck me that hurts. Particularly evil when applied quickly in succession so the pain radiates and spreads in layers over time.
Two good learning points. One is that somebody digging their nails into my thighs and then dragging them hard across a very red and bruised posterior gets a spectacular yell out of me. Two is that being beaten on the feet and then tickled on the soles is a truly evil combination. In honor of that second point I thought I'd feature a little bastinado as the image.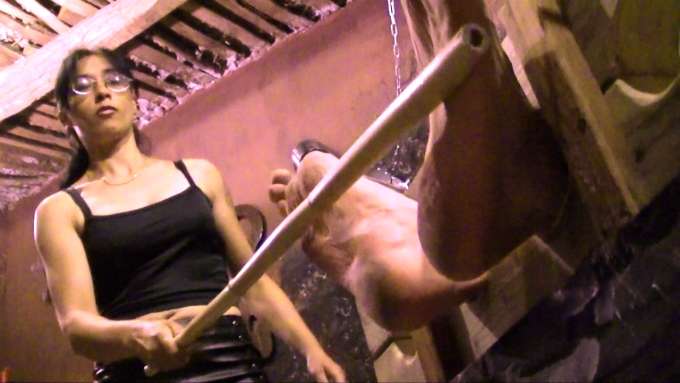 This is Lady Jenny, a pro-domme based in Hungarian. I found the image on the Whipping Mistress blog.