Amanda Gannon over at Adventurotica has an interesting post up entitled 'Femdom and Fulfillment'. It was sparked by a post on the Not Just Bitchy blog that I've already covered in the past, and like that original post it's basically a rant against the common depictions of femdom in culture and pornography.
I have mixed feelings about these kind of posts. I completely agree with the underlying sentiment, and I'd love for more emphasis to be be placed on the dynamic between dominant and submissive, rather than simply the male response. At the same time the pedantic bit of my brain wants to quibble with all the generalizations that get made when discussing such a broad area. And the problem solving bit of my brain wants to ask "So what's my list of action items? We have a plan to fix this, right?" I realize that's unfair and it shouldn't be necessary to have a solution before you can highlight a problem. But speaking personally I'm more a fan of posting about and promoting what I like rather than what I don't, no matter how justified that dislike.
And speaking of posting about what I like, that segues me very nicely into my favorite part of Amanda's post.
What about men who …….. want a woman who is hard and hot and lustful, who will hurt them until they cry not because they are worthless, but because they are so goddamn precious, a woman who will hurt them and comfort them, who values them, and, dare I say, a woman who doesn't see anything submissive about riding their submissive's cock like a goddamn racehorse?
Amanda Gannon
Amen to that. There's nothing better that a dominant who is actively enjoying what she or he is doing.
I was playing last night with Lady Lydia. She'd wired my cock and balls with electoshock bands, and was lying alongside my restrained body playing with the voltage. She would look across at me and spike it up, making me writhe with the pain. And then she'd laugh. Joyfully. Gleefully. It was the laugh of a happy sadist, enjoying the moment. I remember thinking, in between groans, that it was the sexiest thing in the world.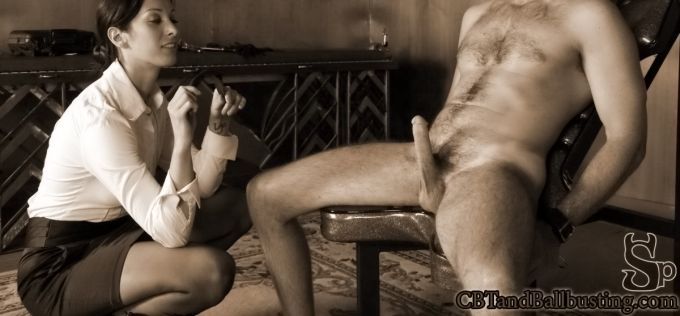 This image is from the CBT and Ballbusting site, which possibly rates highly on the 'creator of cliched femdom erotica' scale (the well established COCFE scale). However, I liked it for her smile. I believe that's Mistress January Seraph with the strap, and while she's not quite laughing with sadistic glee, there's definitely a pleasing blend of happiness and satisfaction in that smile. You can the original sized version here.